Welcome to
TWO MEN AND A TRUCK

in Traverse City, MI
Serving Traverse City, MI
Enjoy the benefits of working with a professional team when you hire the right Traverse City, MI, mover. TWO MEN AND A TRUCK® Traverse City has trained professionals and competitive rates to help your move go smoothly. We believe in delivering great customer service, and your satisfaction is our top concern. We have a 96% referral rate, and we take pride in our high-quality work.
TWO MEN AND A TRUCK®'s trained moving specialists do more than just home moving – they can move your business, too.
Business moving services range from internal office moves to the relocation of hundreds of employees across Traverse City or across the nation. We also offer business moving services that include the delivery of specialty items or the rearrangement of furniture.
At TWO MEN AND A TRUCK® Traverse City, we will effectively plan your move to minimize interruption and let you get back to business. Our services include:
Extensively trained, uniformed, courteous moving pros
Movers are fully licensed, bonded, and insured
Clean, state-of-the-art trucks with proper moving pads and equipment
Free on-site quotes for business moving and packing services
Move orientation with packing and labeling training for employees
Competitively priced moving boxes and packing supplies delivered to your office for your convenience
Experience handling computers and other office equipment
Benefits
As trusted professionals, we understand these important factors while moving:
Free onsite moving quotes for business moving and packing services.
Clean and fully equipped trucks for protection of all office furniture and items during the move.
Onsite move manager provided for the day of the move to answer any questions.
After hours and weekend moves for your convenience.
Ability to provide our certificate of insurance listing you as an additional insured party as requested
Local Company Backed By an International Brand
We offer local service along with all the benefits of an international name. We understand that you've got a lot going on during this busy time, and we'll work hard to take the burden off your shoulders and make your move a great success.
Minimize the stress associated with any move by working with a professional Traverse City, MI, mover. You'll appreciate the personal attention and courteous treatment offered by our team. With our efficient service, you'll have the extra time you need to handle everything else on your to-do list. Call TWO MEN AND A TRUCK® Traverse City today and let us help you with all of your moving needs.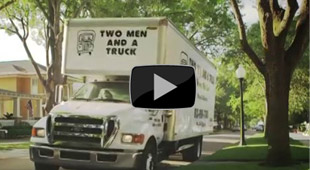 Our Service Area
x c
Afton
Alanson
Alden
Alger
Alpena
Arcadia
Atlanta
Au Gres
Baldwin
Barton City
Bear Lake
Beaver Island
Beaverton
Bellaire
Bentley
Benzonia
Beulah
Black River
Boon
Boyne City
Boyne Falls
Branch
Brethren
Brutus
Buckley
Cadillac
Carp Lake
Cedar
Central Lake
Charlevoix
Chase
Cheboygan
Clare
Comins
Copemish
Curran
Custer
East Jordan
Elk Rapids
East Tawas
Ellsworth
Elmira
Empire
Fairview
Falmouth
Farwell
Fife Lake
Fountain
Frankfort
Frederic
Free Soil
Gaylord
Gladwin
Glen Arbor
Glennie
Grayling
Grawn
Greenbush
Hale
Harbor Springs
Harrietta
Harrison
Harrisville
Hawks
Herron
Hillman
Honor
Houghton Lake
Hubbard Lake
Idlewild
Interlochen
Indian River
Irons
Johannesburg
Kaleva
Kalkaska
Kewadin
Kingsley
Lachine
Lake
Lake Ann
Lake City
Lake Leelanau
Leland
Leroy
Levering
Lewiston
Lincoln
Long Lake
Ludington
Lupton
Luther
Luzerne
Mackinaw City
Mancelona
Manistee
Manton
Maple City
Marion
Mc Bain
Merritt
Mesick
Mikado
Millersburg
Mio
National City
Northport
Omer
Onaway
Onekama
Oscoda
Ossineke
Pellston
Petoskey
Posen
Prescott
Presque Isle
Prudenville
Rapid City
Rhodes
Rogers City
Roscommon
Rose City
Saint Helen
Scottville
South Boardman
South Branch
Spruce
Standish
Sterling
Suttons Bay
Tawas City
Thompsonville
Tower
Traverse City
Turner
Tustin
Twining
Vanderbilt
Wellston
West Branch
Whittemore
Williamsburg
Wolverine